Osteen's Load and Go: We Mean Business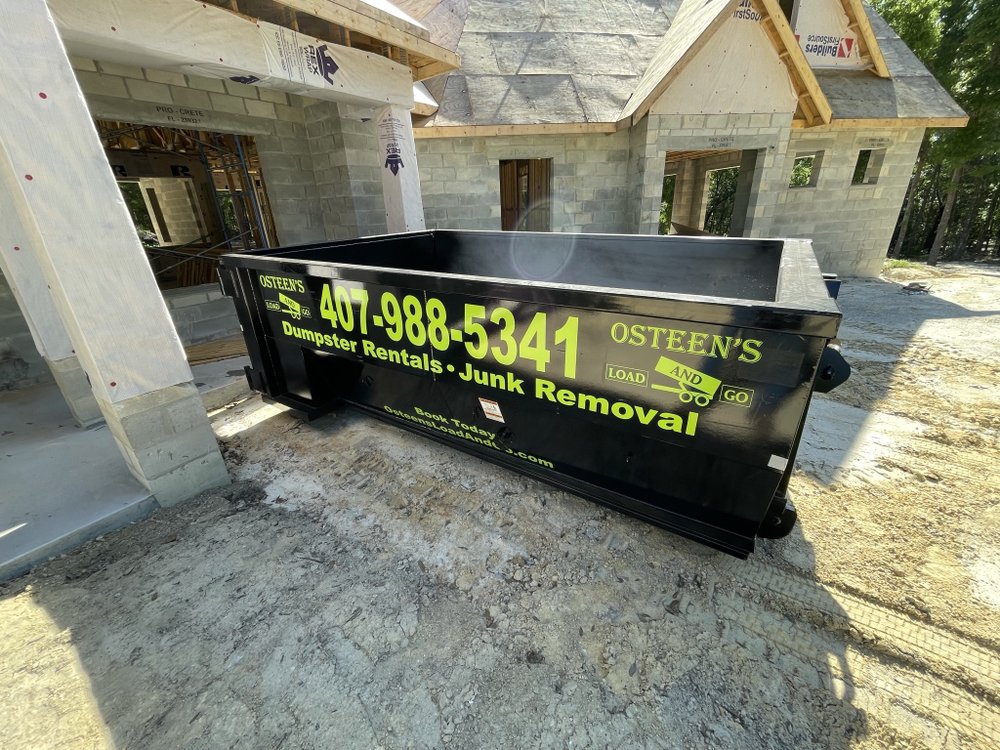 Osteen's has been an owner-operated, family business for years — and we understand the needs of business owners. We offer excellent value and fast, reliable service with no surprise charges, ever. Our licensed, experienced crew will treat your customers and job site like they're our own and make the process as easy and stress-free as possible. We proudly serve a variety of commercial disposal needs across Central Florida:
Builders and contractors.

Our expert team can efficiently manage your construction and job site waste, including large appliance disposal, landscape debris hauling and concrete removal. We offer budget-friendly services for many types of projects, ranging from minor home renovations to large-scale commercial jobs, and can often provide customized solutions — such as total driveway protection or same-day setups. Whether you need debris removal on a daily, weekly or monthly basis, we can help.
Office managers.
We'll haul away commercial debris, taking care of your office and retail space clean-outs — or build-outs. Whether it's heavy furniture, shelving, cabinets or accessories, we'll get rid of it all. And we'll make sure computer equipment and other electronics are disposed of properly, adhering to EPA guidelines and sustainable practices.
Event planners
. Need to remove garbage, event/vendor waste and attendee debris after the concert, show or fair ends? We've got the equipment and manpower you need to clean up your venue after community events, conferences, concerts and parties.
Roofing contractors
. We offer affordable solutions for commercial and residential roofers, with all costs included in our fully transparent pricing. It can be more cost effective for many roofers to rent dumpsters from Osteen's rather than purchase their own equipment once all disposal fees are taken into account. Also, with us, you'll have the flexibility to arrange for dumpsters of different sizes depending on the requirements of each job.
Landlords and realtors
. From tenant leftover clean-outs and home/apartment sale prep to estate clean-outs and foreclosures, call Osteen's Load and Go for speedy and courteous service every time. We'll drop off a dumpster to fill — or take care of the junk removal for you.
Business owners
. Our 20- to 30-yard transferable dumpsters are suitable for schools, shopping centers and other large commercial and retail facilities. We offer short- and long-term/permanent dumpster rentals to fit your space and disposal needs. The process is simple — contact us to review your project specifications, and we'll help you choose the appropriately sized dumpster for your job.
Property managers.
Large and small businesses alike often need to clean up fast after a storm or other severe weather event. Osteen's can clear storm debris quickly so you can reopen and get back to business as quickly as possible.
Central Florida's Go-to Source for Commercial Junk Removal
With the largest fleet of dumpsters in the area and a team of expert haulers and loaders, we'll work with your business to find the disposal solution you need at a price you can afford. We're Osteen's Load and Go, and we mean business. Call us for a fast and free quote on your commercial junk removal or dumpster rental needs.