Osteen's Load and Go - Appliance Removal
Removing old appliances such as refrigerators, washing machines, and stoves is never easy, so let the experts help. Not only are large appliances notoriously difficult to pick up and transport, but they can also be hard to dispose of.
At Osteen's Load and Go, we make the junk appliance removal process as simple as possible while ensuring that your items are used even long after they have left your home. From microwaves to refrigerators and beyond, we take the stress out of disposing of your old appliances. Our licensed team will carefully and promptly remove the old appliances from your space and safely transport them for disposal, leaving you free to bring in your new appliance.
Some appliances have complicated disposal rules and could negatively impact the environment if left in a landfill. Improper disposal of heavy household appliances with hazardous chemicals is dangerous. Our team is familiar with environmental requirements for disposal and will ensure proper handling of your junk appliances.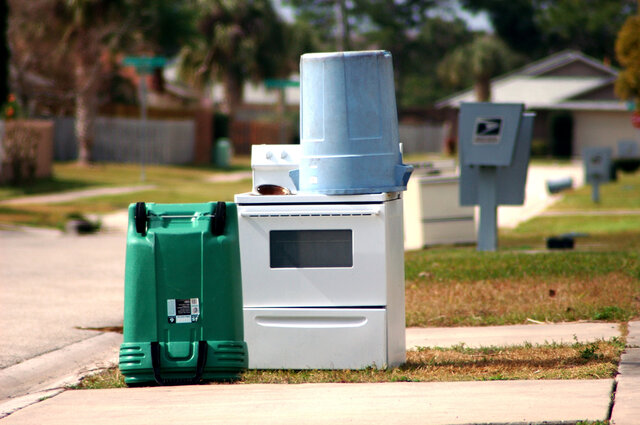 Recycling old appliances is often the best option for environmentally friendly disposal, so at Osteen's Load and Go, we offer eco-friendly disposal for your old appliances for as many items as possible.
We also provide whole house cleanouts for foreclosures, and for larger projects, you can rent our commercial dumpsters, which hold up to 3500 pounds of trash and allow you to dispose of waste and haul away at your own pace.
Why Work with Osteen's Load and Go for Your Appliance Removal Needs?
Our junk appliance removal specialists will come to your area and remove unwanted appliances - regardless of their size. They're trained, licensed, and insured and use the utmost caution when removing heavy, bulky things.
At Osteen's Load and Go, we offer flexible old appliance removal services and disposal that work around your hectic schedule. Contact us today to take care of your outdated appliance issues.