Osteen's Load and Go - Junk Removal Services
Osteen's Load and Go is a central Florida-based business run by veterans, and our junk removal services will help you keep your property clean and clutter-free. One of our large junk haulers will come to your property and our specialists will load it up with everything you need to get rid of, and we have different pricing options depending on how much room it will take up. We do this rather than pricing our junk removal services per visit because we know that everyone has different amounts of trash and junk that they need to get rid of. You shouldn't have to be paying a fortune just to get a few old appliances removed! Check out our pricing guide here.
One of the biggest benefits of choosing Osteen's Junk Removal is the convenience we offer. We understand that your time is valuable, and we work efficiently to ensure that your junk removal needs are met promptly and stress-free.
Our junk removal services include:
Refrigerator Disposal
Garbage Removal
Mattress Disposal
Foreclosure Clean Outs
E-Waste Disposal
Hot Tub Disposal
Construction Waste Removal
Yard Waste Removal
Trash Removal
Appliance Removal
Television Disposal & Recycling
Furniture Removal
At Osteen's Load and Go Junk Removal, we understand that junk removal can be stressful andtime-consuming. That's why we offer convenient and efficient services to meet your specific needs. Our team is committed to providing exceptional customer service and will work to ensure that the job is done right the first time. We're licensed and insured, so you can trust that your property is in good hands.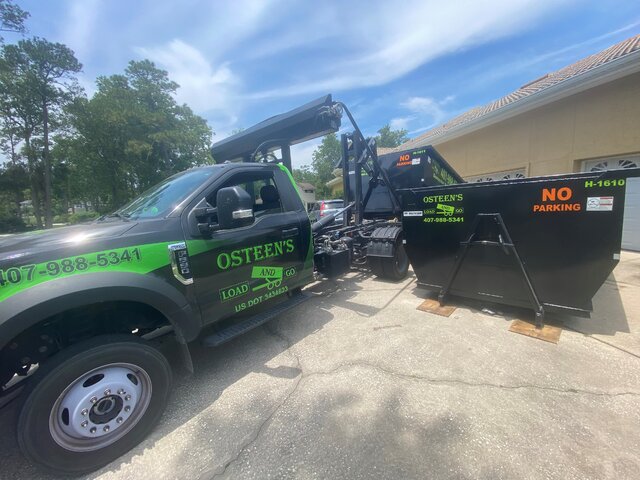 Don't hesitate to contact us today if you need our junk removal services and junk haulers to help you clean up after a big project, get rid of the trash on a property you've just bought, or just start on a long overdue decluttering. Prefer to get rid of all the junk yourself? We also provide dumpster rentals if you want to handle removal on your own time. We're here to help you keep your property clean and clutter-free. Contact us now to schedule an appointment with our team of experts and experience the convenience and quality of Osteen's Load and Go!