Osteen's Load and Go: We're Here to do the Heavy Lifting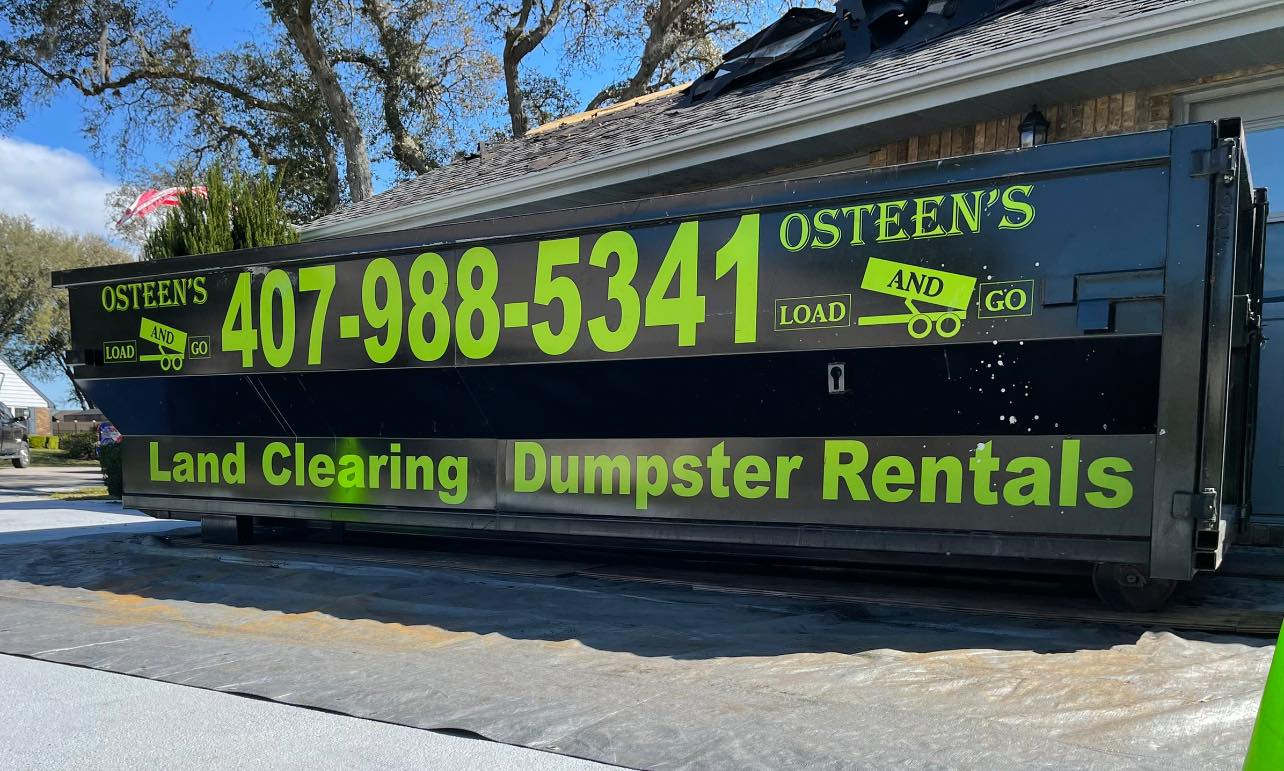 Got a big job — or a big mess — on your hands? Osteen's Load and Go is your local, professional resource for all your junk-removal and land clearing needs. Whether you need to get rid of an old refrigerator, clear storm debris or remove construction waste from a renovation project, we're here to do the heavy lifting.
Locally Owned and Operated
Osteen's is an owner-operated, family business — not a big chain junk hauler — and we understand what's important to our customers: reliability, transparent pricing and fast, professional service. And when we schedule an appointment, we'll show up on time (often same day) and do the job right. We include all dump fees for properly disposing of appliances, furniture, electronics and more, so there'll be no surprise charges at the end of a job. And we take care of your property like it's our own — with our VIP package, our dumpsters never make contact with your driveway.
Customers First
At Osteen's Load and Go, we take our commitment to you seriously. We're a veteran-owned business that puts our customers' needs first. We provide Central Florida homeowners and businesses with friendly, affordable, eco-friendly solutions for all their junk removal needs. With the largest fleet of trailer dumpsters in the area and a team of expert haulers and loaders, we'll work with you to find the disposal solution you need at an affordable price.
Dumpster Rentals for Projects of Every Size
We offer both short- and long-term/permanent dumpster rentals to commercial and residential clients in a variety of sizes to fit your space and your disposal needs. For commercial clients like schools, malls and businesses, we offer a 20- to 30-yard transferable dumpster that holds about 3,500 lbs. of debris. For residential clients remodeling their home or collaborating on a neighborhood cleanup project, we deliver dumpsters that range in capacity from 2 to 16 yards.
When You Just Need It Gone
So if you have a big household disposal or construction project, you'll get professional service with a personal touch when you work with Osteen's Load and Go — for more than 10 years, we've been Central Florida's local, go-to source for all of your land clearing and junk removal needs.
Large appliance disposal

Furniture and mattress removal

House, apartment and garage clean outs

Construction and landscape debris hauling

TVs and e-waste recycling

Post-storm cleanup

Foreclosure and estate clean outs

Roofing and renovation debris hauling

Offices and commercial clean outs

Storage unit emptying

Event cleanups

Tenant leftover clean outs

Shed and playground demolition
Osteen's has the know-how and equipment that can get your job done fast — and on budget. Call us today for a fast and free estimate!